Original article found on bloomberg.com
On Nov. 8 in Geneva, Phillips is selling the actual Rolex Submariner that Roger Moore wore as James Bond in 1973's Live and Let Die. Yes, this watch touched 007's suave wrist.
Looking at the watch, it seems like a simple enough 1972 Rolex Submariner (ref. 5513 for the nerds), but it's far from that. Production designer Syd Cain—basically a real-life Q—got hold of it prior and heavily modified it for filming. Nowadays, Bond watches areusually promotional items and the Daniel Craig films have all heavily featured various Omega watches. The watch even gets a straight call-out during a tension-filled train ride in Casino Royale, during which Craig flat-out states that he doesn't wear Rolex, much to Eva Green's chagrin.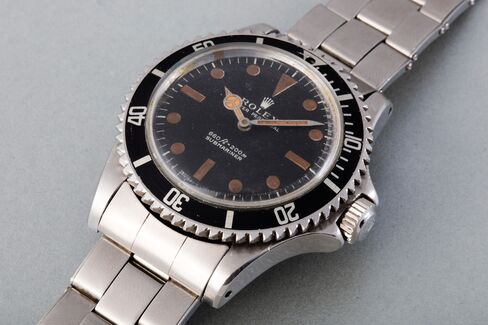 Unlike other Bond watches, though, this Rolex is more than a stylish accessory. Take a closer look at that bezel. Cain recut the teeth to look like those on a circular saw, so they face the clockwise direction instead of sticking straight out. Bond uses the saw to cut through some ropes holding him and a heroine hostage at a critical point in the movie.
The secret agent is also told that his new watch can generate a strong magnetic field on command, but he needs to test it out. Obviously 007 opts for using it to unzip actress Madeline Smith's dress. If you look at the bottom of the watch, on the bracelet's endlink, the secret to this effect is revealed: There's a tiny hole where a wire could be placed to hook onto the zipper pull.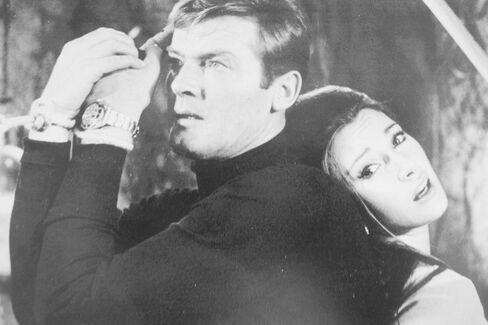 Looking inside the watch, there's a surprise: no movement, just a weight. So no, this watch doesn't actually tell time, it's purely a movie prop. That's going to be a deal-breaker for a lot of collectors, but as a consolation prize the inside is signed "Roger Moore 007."
Provenance is everything for a lot like this, and in addition to the autograph, whoever buys the watch will get some original stills from the film's production along with some of Cain's hand-drawn sketches for the watch's modification. They're little extras that make this feel a lot more like a complete package.