Original article found on bloomberg.com
I'm not normally a big gold Rolex kind of guy. But this watch? This watch is just straight up incredible.
Hopefully at this point in the summer you've been able to spend a little time outside the confines of the office and maybe you've got a bit of a tan. That means it's prime gold watch season. You won't catch me endorsing oversized blingy gold watches that come complete with diamonds and require strength training before you can wear them, but something like this well-worn Rolex GMT-Master is a perfect compromise between sober understatement and wristwatch bravado.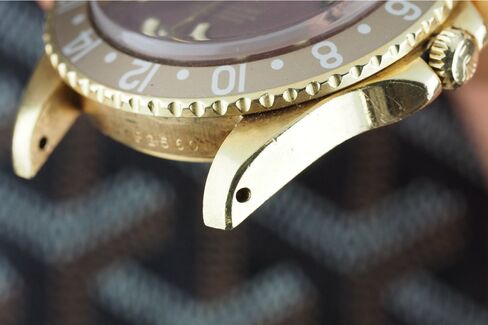 Rolex's gold sport watches are unique beasts. They have the same form factor as steel Submariners and GMT-Masters, just the material and color schemes are changed. So, even though they're made in precious metal, the silhouettes and styling don't feel overwrought. Rolex still makes them today, but the best vintage examples are from the 1970s and '80s, when the bracelets were a little slimmer and the cases not so brightly polished.
This particular watch is a GMT-Master in solid 18-karat gold, including the intricate gold Jubilee-style bracelet (usually found on Datejusts). The gold has taken on a warm hue over the decades, since the case has probably never been polished. The bevels on the lugs are some of the sharpest I've seen on any GMT; since gold is softer than steel, any soft polishing would obliterate these immediately. Impressive.
The dial on this watch is immaculate. It's faded from dark brown to a softer, more milk chocolate color, but all the thin gold markings look brand new. The markers are raised gold and filled with luminous material that perfectly matches the hands. Because of the shape of these markers, the style of dial is known by collectors as a "nipple dial" and is something only found on Rolex's gold sport watches. A gold date disc and faded mono-color bezel complete the look, making this about as un-flashy as a gold sport watch can be.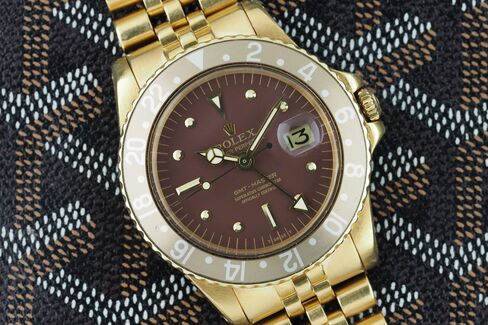 In general, when you think of a gold Rolex, what comes to mind is something dressy like a Day-Date or maybe even a Datejust. These watches are great, but this time of year I want a warm-toned sport watch sitting on my wrist. This one would do just fine.