Original article found on bloomberg.com
There's no question about it: we're in the era of peak rose gold.
But not all rose gold is the same, and not all rose gold watches are created equal. When it comes to vintage Rolexes though, the alloy is often overlooked and incredibly appealing. These are vintage watches you should be eagerly hunting down.
For most of the 20th century, yellow gold was much more common than rose gold, but when watches were made in shades of pink, they tended to be lighter and softer—reflections of the taste of the time. If you look at a pile of vintage rose gold watches, you'll see tons of variation, and almost none of the watches will look like anything made today. Therein lies the charm.
Quick Color Primer
Almost all gold used for watches and jewelry is an alloy with various levels of other metals added to the pure element for color and strength. White gold usually includes nickel or palladium, while warmer shades use a mixture of silver and copper to dial in the right hue of yellow, pink, or red. Modern watch brands seem to prefer alloys with a higher proportion of copper, giving the gold an almost red color, on the assumption that men will prefer this to a pinker color.
I'm here to challenge that belief. For proof, just take a look at the four vintage Rolex beauties below.
1967 Day-Date Ref. 1803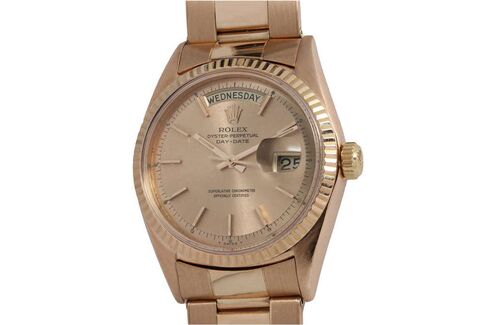 In vintage Rolex alone, there are enough hue options to satisfy almost any collector. You can jump into the deep end and opt for a pink-on-pink Day-Date, like this one from 1967. The case, dial, and hands are all that soft shade of almost salmon-pink that is impossible to find in modern watches. Even the disks for the day and date displays have a pinkish hue that blends them in, and the mix of brushed and polished surfaces really shows off the gold. Think of it as the more accessible cousin to the pink-on-pink Patek Philippe ref. 1518 that fetched $1.5 million at the Phillips One auction back in April.
1956 Oyster Perpetual Ref. 6551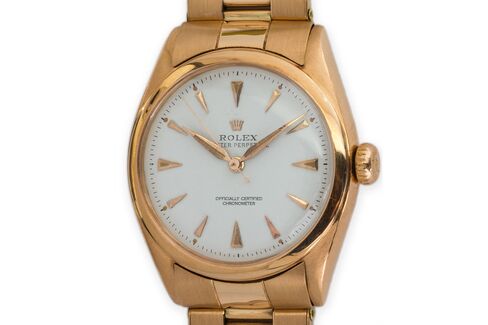 If you want to stick with an all-gold construction that has just a splash of rosy highlights, you can go for a simpler three-hand or date model from the 1950s, with either a high contrast black dial or simple white dial. The extra color will soften the effect, and because the gold used in this period has a little less copper in it, it takes on a warmer tone. I still recommend holding out for a watch with a matching bracelet: Sure, you'll save money by getting just the head and wearing it on a leather strap, but the result won't be nearly as striking.
1965 Oyster Perpetual Ref. 1003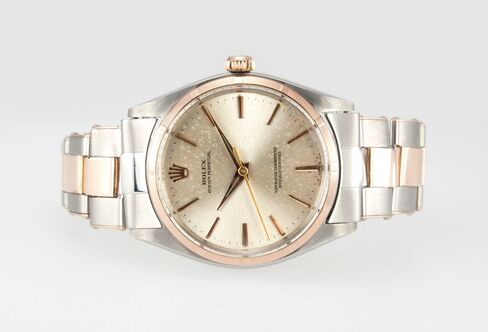 This may be more of an outlier than the other two, but as I've said before, two-tone vintage Rolex watches are under-the-radar hits waiting to happen. This Oyster Perpetual uses a very light shade of 14 karat pink gold for the bezel, crown, and bracelet accents. The gold is almost beige because it's so light, but it pairs perfectly with the steel case, champagne dial, and darker gold markers and hands.
1930s Rolex Prince Ref. 2771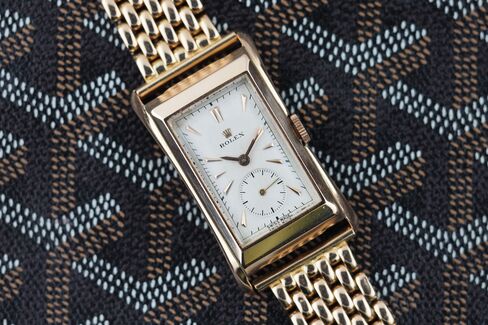 You can also dig farther into the archive to discover this pink gold Prince Elegant, an unusual watch from the early days of Rolex. This example comes paired with a solid, pink gold, beads of rice-style bracelet made by legendary bracelet maker Gay Freres, a find in itself.
Next time you're looking for an elegant vintage Rolex, remember: Think pink.