Original article found on bloomberg.com
Before it was an internationally known brand sported by the likes of Sly Stallone, Panerai was a small watch shop in Florence that made some oversized watches for the Italian Navy. This is one of those watches.
Although Giovanni Panerai opened his watch shop in 1860, the Panerai we know today started around 1916, when the watchmaker started providing watches to the Royal Italian Navy. The watches were oversized, could be easily strapped over a wetsuit, and had brightly glowing numerals to make them easier to read underwater. The company made compasses and depth gauges to match. In the pre-digital days, divers couldn't do their jobs without watches like this.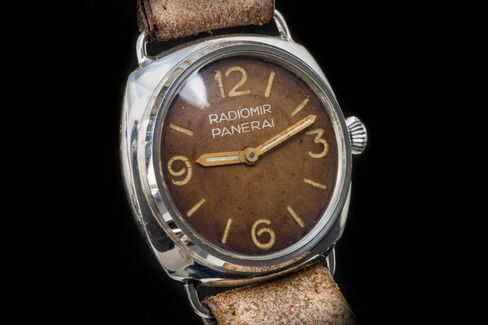 This Panerai dates to 1938, the first year the company made watches that carry almost all the iconic traits now associated with the brand. Most notably, this includes the "sandwich dial," in which a bottom dial plate has luminous radium applied to it and then a second layer with cut-outs for numerals and markers is layered on top. You'll also notice the broad sword-shaped hands, the knurled crown, and the long wire lugs that hold the strap to the watch. The modern Radiomir looks almost exactly like this watch.
The dial on this particular watch is a caramel brown color with darker spots and a ring towards the center. Collectors call this a "tropical" dial because it started out black and turned brown because of the elements. Sunlight can account for some of this, but considering the spotting and other marks, I wouldn't be surprised if this watch had taken in water at some point, probably on a diver's wrist. The ring is another thing entirely: These watches used radium to make them glow at night,  and the ring was caused by the radiation having being concentrated back onto the dial by the domed crystal. It's safe to wear, though I wouldn't suggest tucking it under your pillow at night.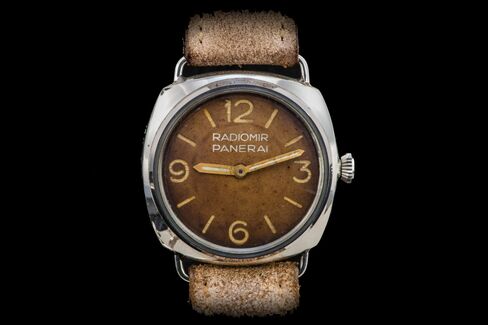 During the early days, Panerai wasn't making its own movements. It commissioned movements from a Swiss watchmaker you may have heard of: Rolex. Because this watch has a rare transparent plexiglass caseback, you can see the name stamped right on the bridge. Around the edge, you'll see the word brevettato, which means the design is patented, much like as the  French Brevet ca be seen on many Swiss watch crowns and casebacks.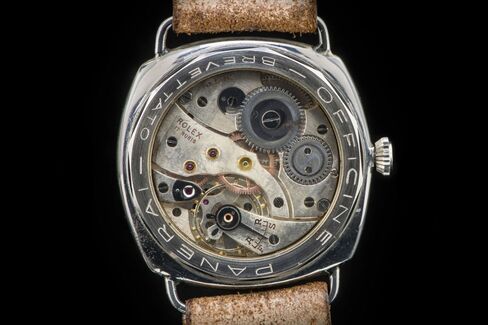 These early Panerai models can be tough to track down. Even when you can find one, it can be tough to know if you're getting the real deal because there were so many small variations among batches of watches. Buying from a reputable source is crucial. A later1945 ref. 3646 appears in Christie's June 17th auction with an entirely different dial and caseback.